Login
Log in if you have an account
Register
Having an account with us will allow you to check out faster in the future, store multiple addresses, view and track your orders in your account, and more.
Create an account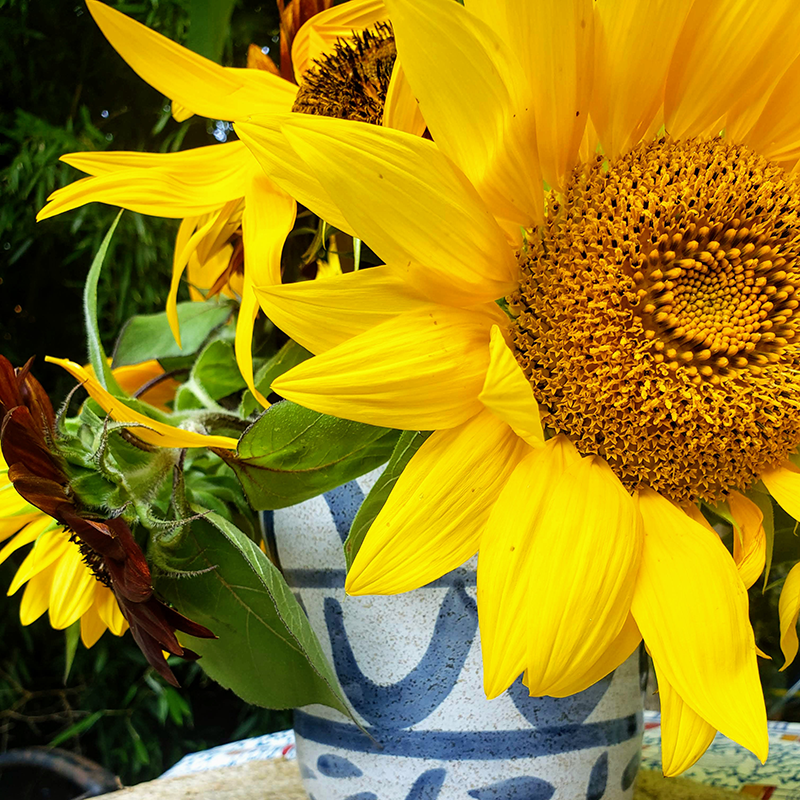 Welcome to our Botanical Diary, following along with the growing season at Frayed Knot Farm.

As new blooms come to life at this Northeast Ohio farmstead, we're sharing information and at-home styling inspiration for each plant.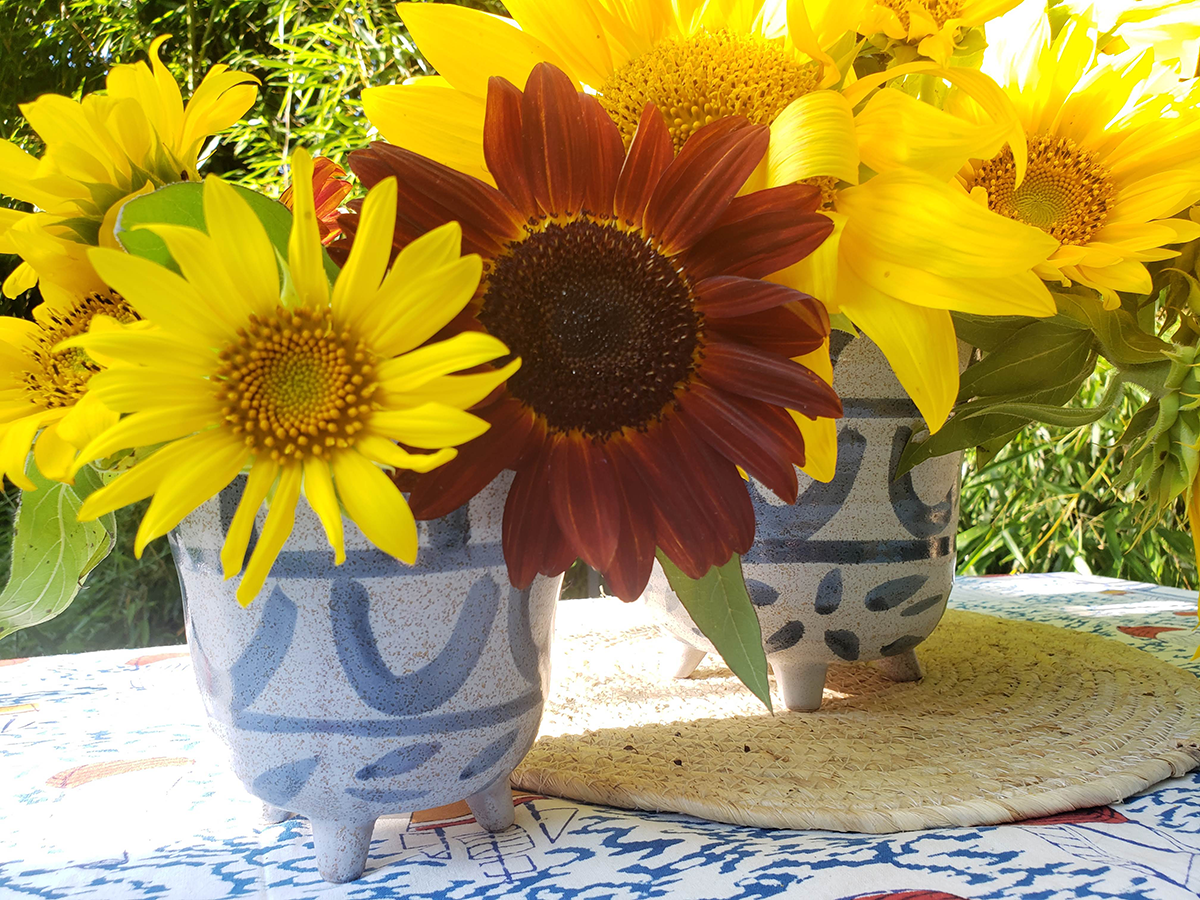 It's hard not to smile at a sunflower, even just one, but particularly in large fields. There is something so striking about tall flowers literally reaching and bending towards the sun in unison. I remember visiting family in rural Hungary and driving past hundreds of acres of sunflower fields and just feeling so in awe and at peace.
-Em Pek, Frayed Knot Farms
---
Native to North and Central America, sunflowers are unique in their movements towards the sun, called heliotropism. They are a great cover crop because of their deep tap root and their petals. The seeds are edible and can be used for oil production and, with some varieties, fabric dyeing.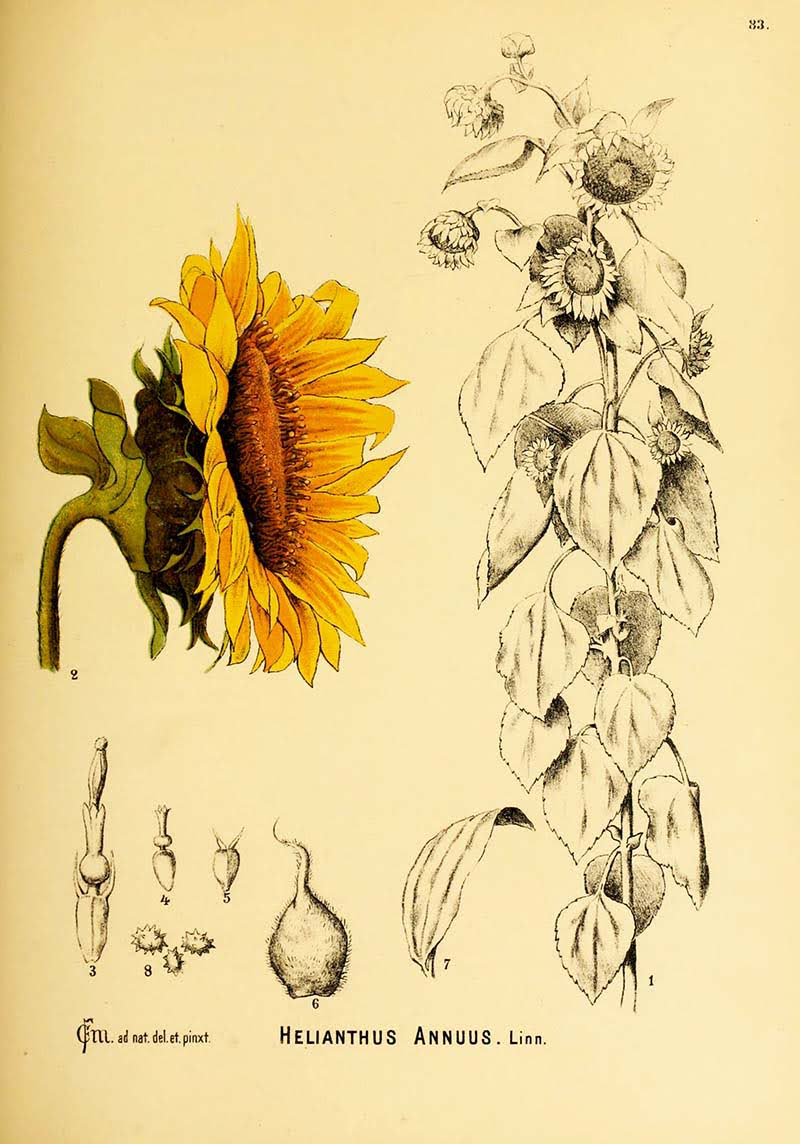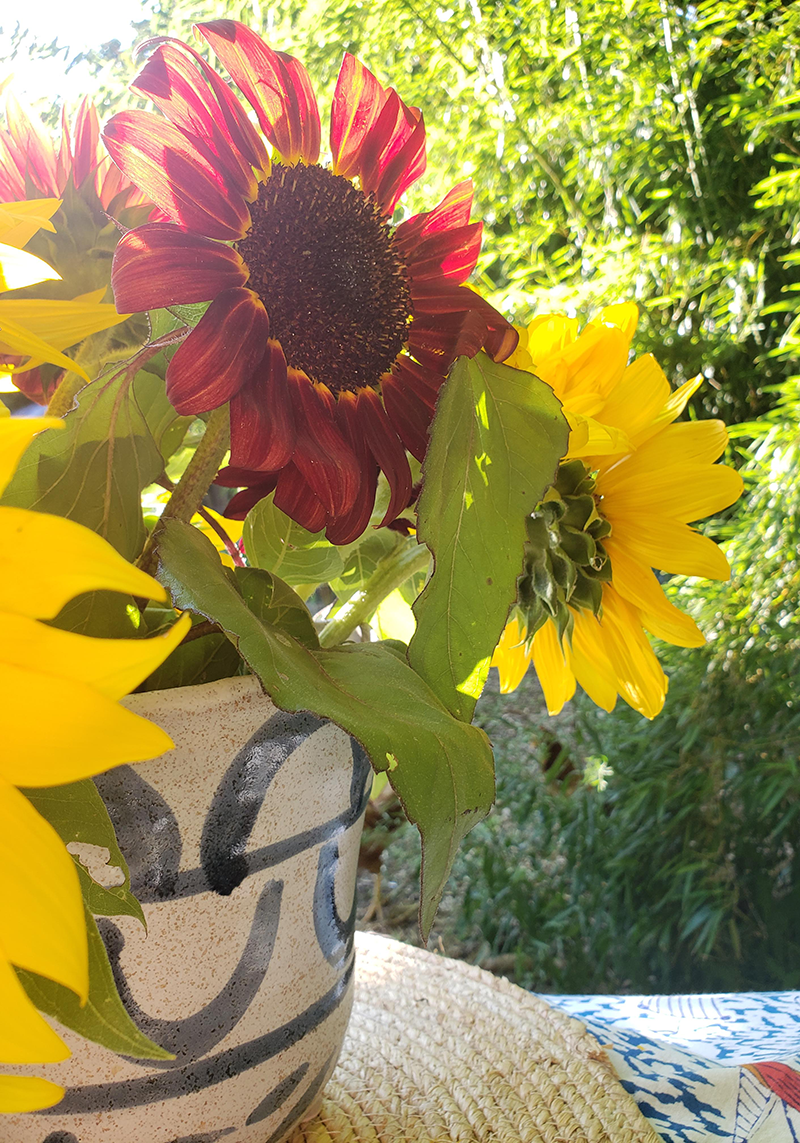 "Light-enchanted sunflower, thou
Who gazest ever true and tender
On the sun's revolving splendour."
~ Pedro Calderon de la Barca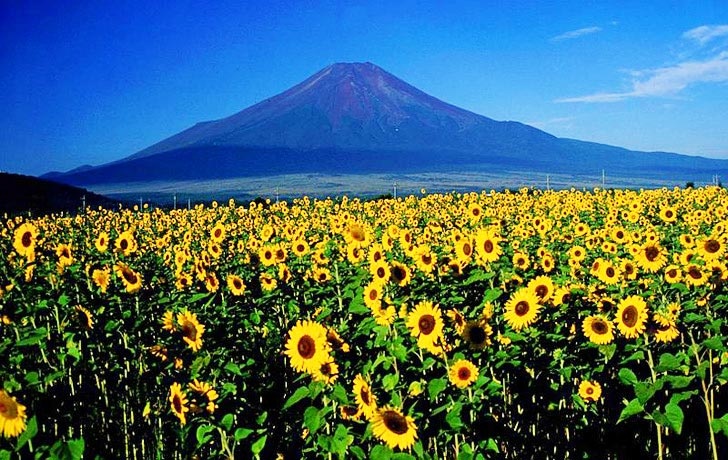 Sunflowers can remove toxins, such as lead, arsenic, and uranium, from contaminated soil. They are a natural decontaminator of soils and have been used to clean up soil at some of the world's biggest environmental disasters, including Chernobyl and Fukushima. Now sunflowers carry new meaning. They have become the symbol of a world free of nuclear weapons. (wagingpeace.org, inhabitat.com)
---

Pure sunshine
I love Sunnies in vessels that make that color pop even more- blues are a classic pairing for a reason! Our Granada planters bring that gorgeous, easy Spanish vibe. I like these blooms cut a little lower, and grouped really full- play with all those color variations to bring warmth and golden texture to your table!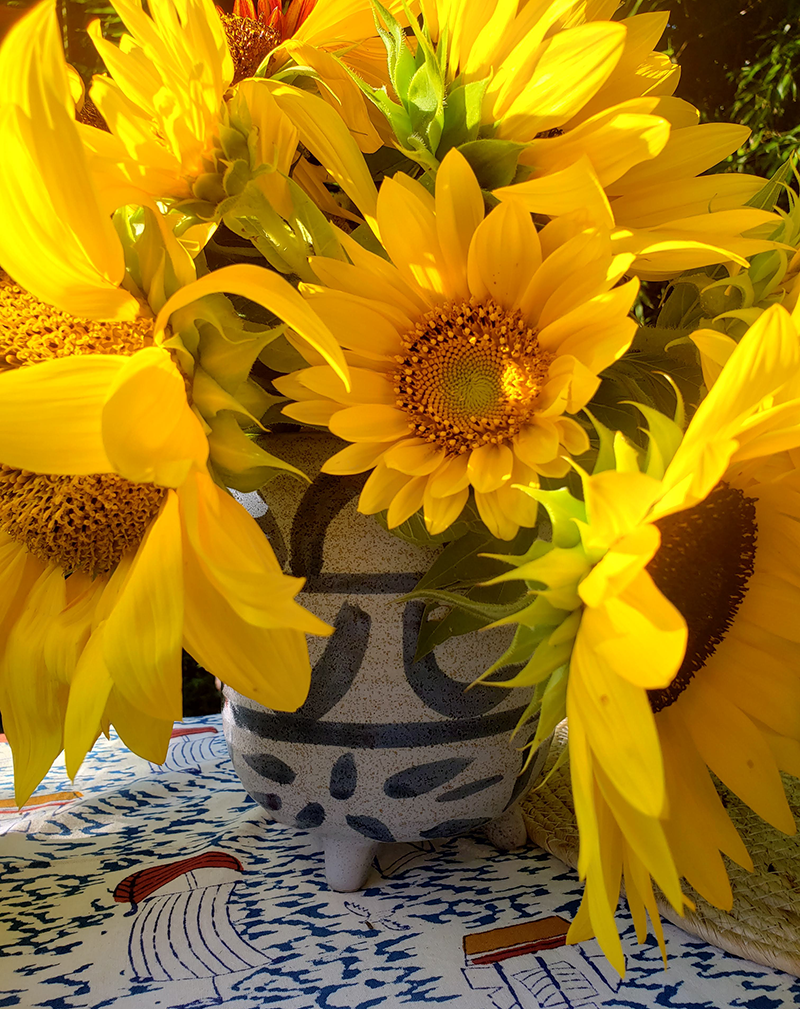 The bright array of color variations and sizes make Sunnies them so much fun to pair and play with. Use the beautiful darker varities to pick up the brown tones in the center of golden varieties- and don't forget to leave some of that lush green foliage to really pump up contrast and texture.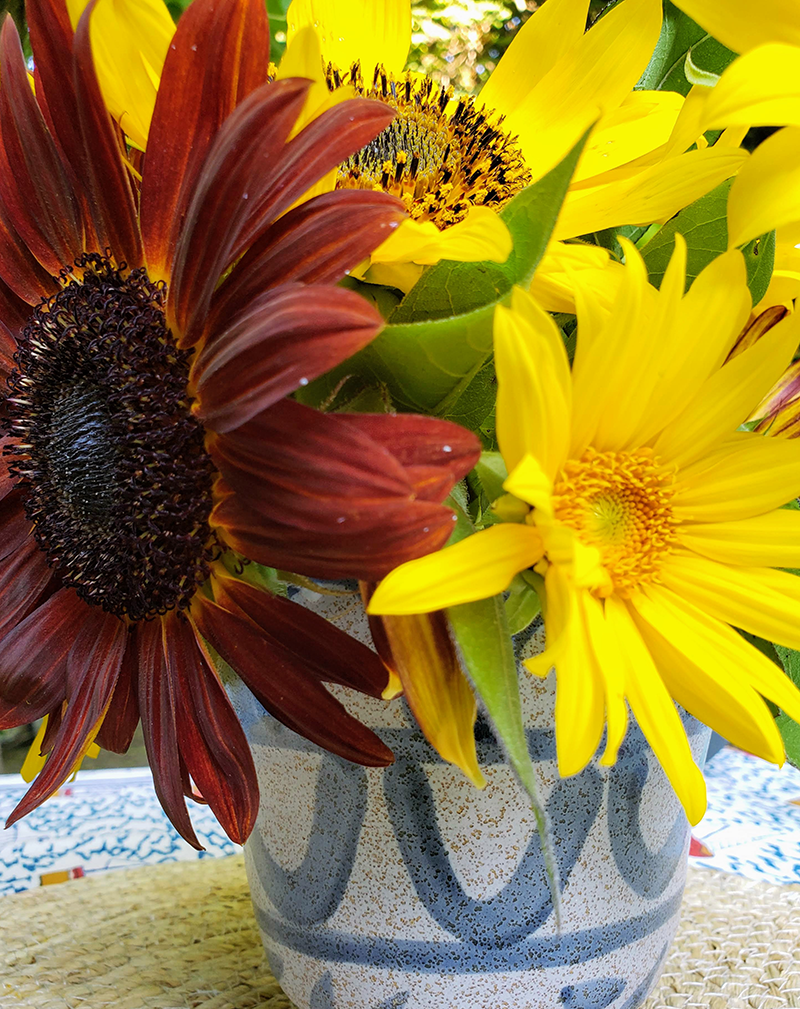 ---
Related products
Meet the Collaborators
Emily Pek is founder of Frayed Knot Farm and steward to the land it operates on. Thirty miles east of downtown Cleveland, Emily grows over 50 varieties of annual and perennial flowers, many of which are heirloom seeds on less than an acre. Using hand scale and regenerative farming practices, the farm has transformed from mowed grass and heavy clay soil to a thriving ecologically diverse ecosystem.
---
Jennie Doran is the designer and artist behind Room Service. Her passion for creating engaging, inspiring spaces, paired with her experience in retail design and art direction has situated R/S as one of Ohio's preeminent retail destinations. With a keen eye for detail and composition, her work extends from large scale art installation to interiors, from costume design to art direction and styling.
Leave a comment