Login
Log in if you have an account
Register
Having an account with us will allow you to check out faster in the future, store multiple addresses, view and track your orders in your account, and more.
Create an account
Women of re:COLLECTION
08 Mar 2023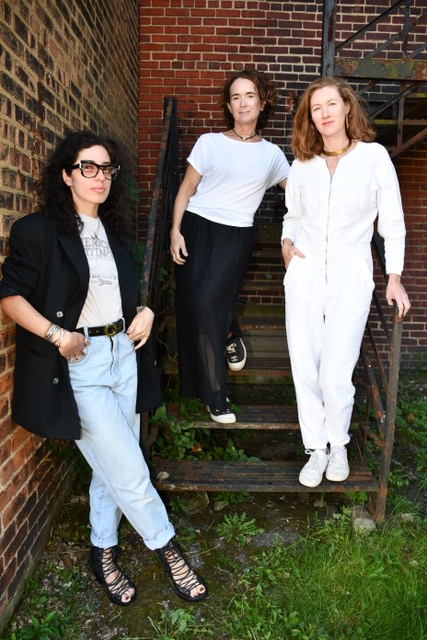 Meet Mollie, Lauren and Karry
Vintage Curators // Owners of re:COLLECTION

For the past handful of years Room Service has keep a steady rotation of delicious vintage clothing, thanks to these three.  We were curious what inspires them and informs their decisions when curating a collection, so went ahead and asked them a few questions! Learn more (and get some great thrifting tips) below!
How did the three of you meet and join forces to create re:COLLECTION? 

It started with Karry and Lauren meeting while set up next to each other as vendors at the Cleveland Flea in Hingetown. To start, we were doing vintage pop-up events at various locations around Cleveland, bringing together several other vintage vendors as well. Overtime Mollie started to work with us on those pop-up events, and we eventually made the switch to join forces as three and brand + sell our pieces together under our name re:COLLECTION.
How would you describe your personal style?
Mollie: Slightly undone with room to breathe… Just about everything has a story, and it's always been a variation on a theme. Suiting, texture, neutral colors (getting into camel and espresso these days ;). That hint of tailoring makes me feel put-together, but you'll never catch me ironing. An oversized blazer over a blouse or t-shirt and good jeans or an easy trouser is a uniform. Cottons, silks, linens. A chunky shoe, western boot or sneaker - comfort is a high priority for me from head to toe. Never leave the house without a belt. Piles of jewelry that never come off. Big hair.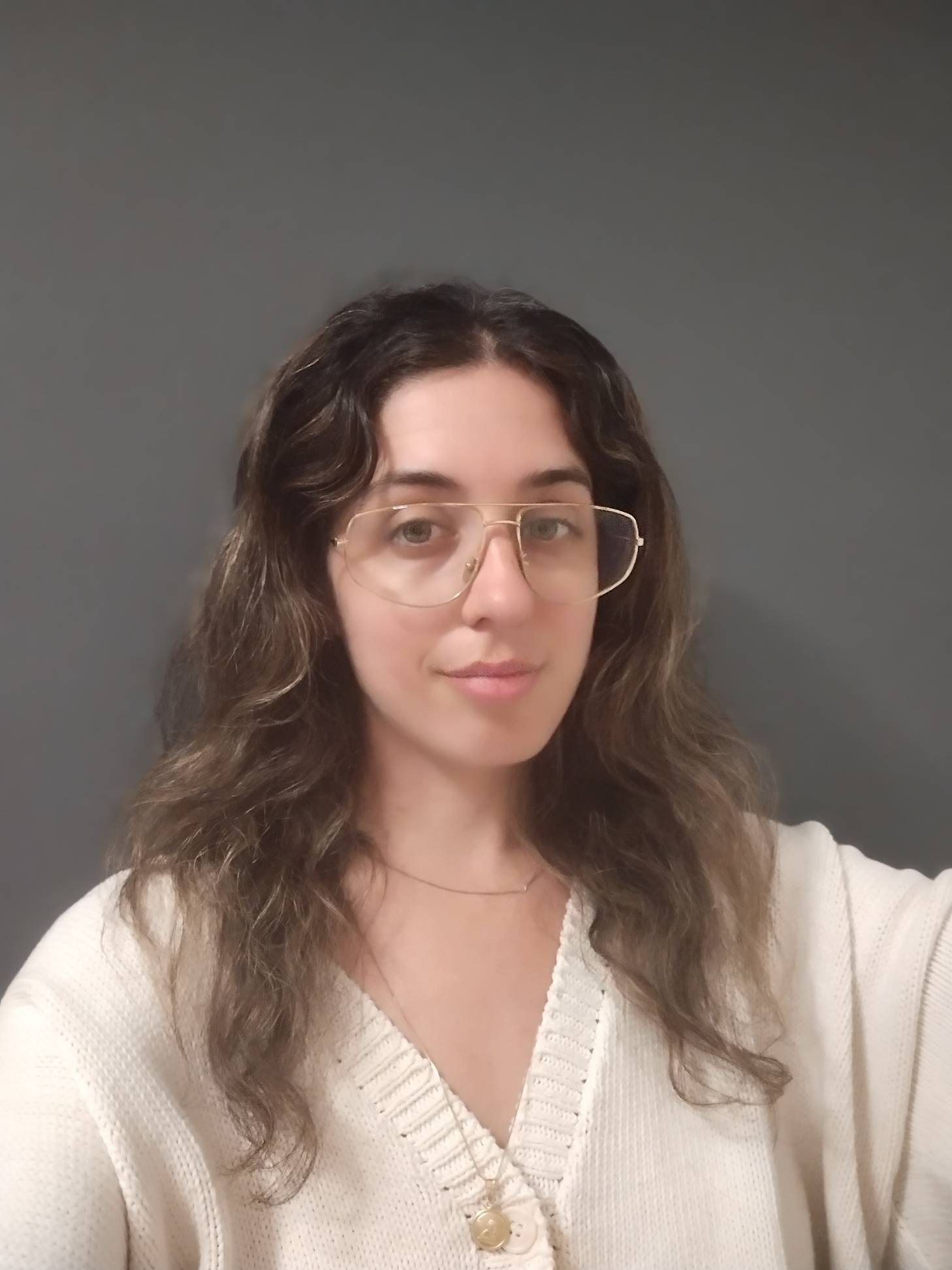 Are there any sources of inspiration to your style, your collecting, outside of the world of fashion?
Mollie: I think we find inspiration everywhere: in our travels, our creative friends, our families… interiors, music, nature…  each other. We have a mutual desire to share stories and give pieces a new lease on life - to promote a more circular economy and shift mindsets from the ease of fast fashion to shopping with intention and luxuriating in the find.
Karry: I second everything Mollie just said. I'm a sucker for a good story or the feeling I get when I open up the closet of a thoughtful fashionista. For the pieces we curate to sell at Room Service, Jennie also sparks a lot of that inspiration. She will set the mood for us with color stories occurring in a collection of photos, and we build from there. The stories may change, but they always say "Jennie."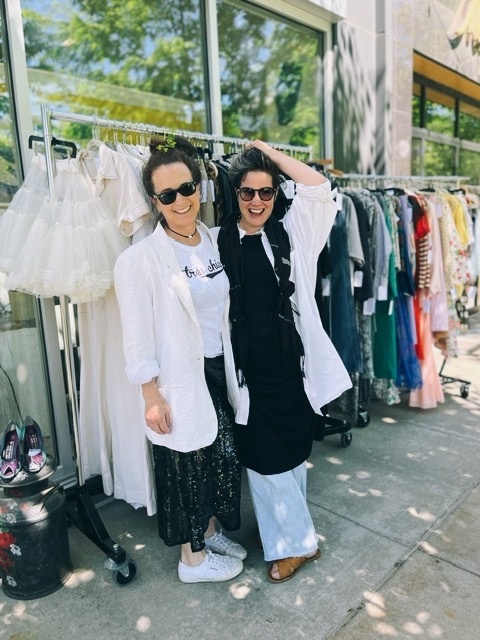 Has your style evolved since launching re: COLLECTION or do you find yourself still drawn the same aesthetic as day one?
Lauren: There are certain styles that have appealed to me as far back as junior high: a flowy boho aesthetic or structured and chic 40s silhouettes. That doesn't mean I'll shy away from bright 80s clothing or a cute 60s mod look but some aesthetics do certainly hit closer to home. 
Karry: I still love a good blazer over a T-shirt. And a small snug top with a full skirt. I can't imagine ever giving up on those. But I have moved away from wearing all black all the time. There's just too much fun to be had with clothes. Especially if they are sparkly.
Are there any fashion trends of the moment that you love and are looking to incorporate into your own style?
Karry: Yes, and it really creates internal conflict for me. I want more sneakers! I love sneaker culture and crave more sneakers. But I also try very hard to limit my purchases of new (not pre-owned) items. Sneakers fall into the category of items "probably best bought new." Thus, the struggle. 
Do you try to keep up with what's trending when curating pieces for your collection?
Lauren: We do pay attention to what's trending and make note when certain types of pieces or styles start moving extra quickly. But there's also a sense with vintage that some looks just never go out of style (and those that do have a way of coming back around). Wearing vintage offers a truly unique look, so even if it's on-trend, there's always an original element as well.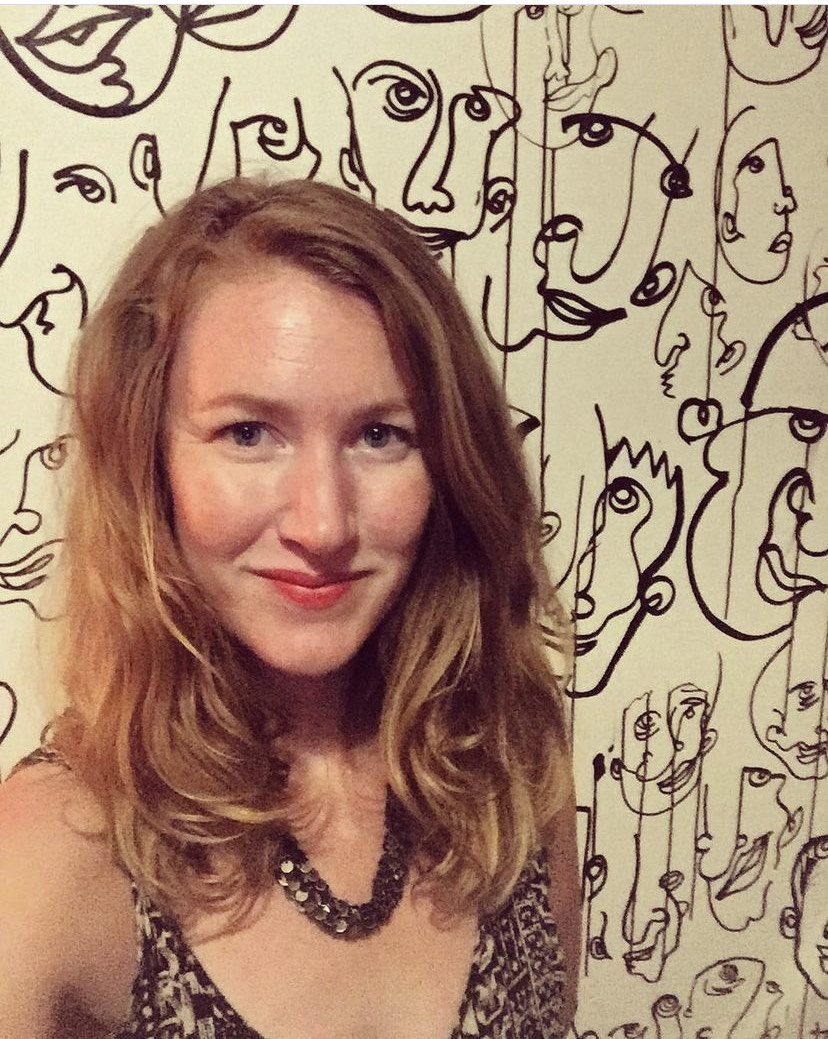 Which pieces of clothing do you recommend people invest?
Lauren: The ones that light you up! Some pieces just make you happy. As a seller, there's nothing better than seeing someone truly connect with a given piece. Because every item is unique, there's a certain thrill to finding that just-for-you-match.
Karry: Call me old-fashioned but I believe you will never go wrong investing in a great blazer, trench coat, and a GOOD pair of shoes. Nothing crazy, maybe loafers or pumps. Take them to a good shoe repair shop and have a protective pad glued on the bottom.
What's your most cherished piece of vintage clothing in your closet?
Lauren: I have several pieces that were sourced directly from my mother and my grandmother. It's difficult to select just one because there's a sentimental value to each of these items that exceeds anything I've picked up on my own.
Mollie: I also have lots of family pieces in my wardrobe - vintage shirts, belts and  jewelry being some of my favorite and most worn. My family lives on the east coast, so thinking of the memories embedded in these items brings a closeness to them that I don't otherwise have on the daily.
Karry: There are so many pieces in my closet that have a provenance — whether it's from a family member or from a flea market my mother and I went to together. It's the stories of where those clothes were before me and then with me that make them fun. And special.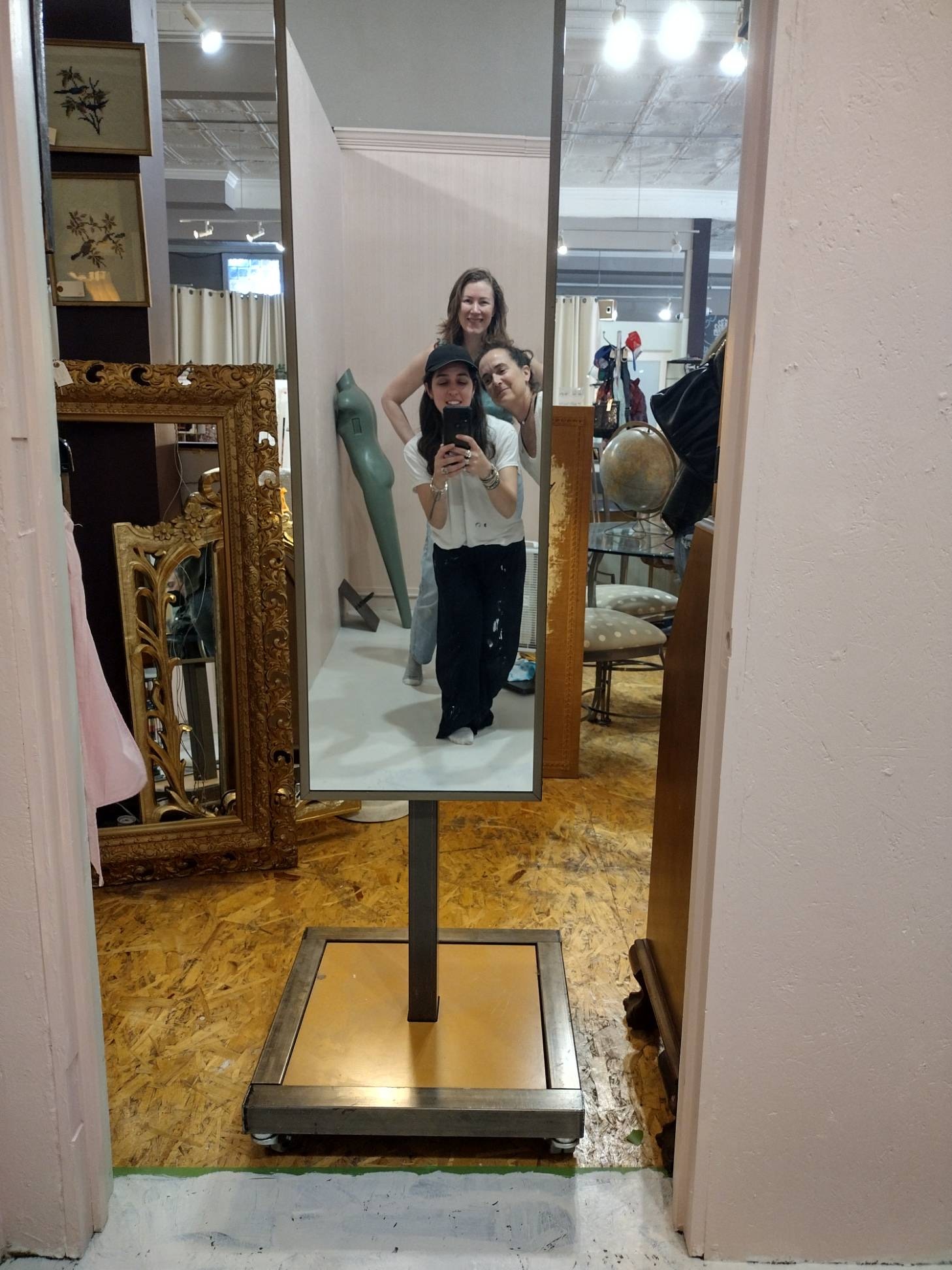 Any lessons in thrifting that you've learned over the years?
Lauren: Wearing leggings and a tight-fitting shirt are a must when there's no fitting room and you want to get a feel for sizing before making a purchase.
Karry: Yes! Hold items up to the light to make moth holes easier to spot. Always check underarms, shoulders and cuffs for wear, bleaching and stains.
Any tried and true styling tips for putting together a look with vintage clothing?
We have customers who love the full-on vintage look and are committed to a decade. Think 50's Audrey Hepburn, 60's Edie Sedgwick….90's Gwen Stefani. Others who really love to mix it up, blending colors and decades. Others are at home in the classics and are always on the hunt for a statement bag or belt to spice things up. Any and all of the above work for us! We like to see people shopping for quality and having fun with their outfits. Just pay attention to fit and go for quality materials if you are splurging. 
Thank you, ladies!! 
You can shop

re:COLLECTION

pieces at Room Service, and be sure to follow along with them on Instagram

here

to keep updated on events, and where else you can shop with them around Cleveland!
Leave a comment