Login
Log in if you have an account
Register
Having an account with us will allow you to check out faster in the future, store multiple addresses, view and track your orders in your account, and more.
Create an account
Recipes for a Very French Dinner
08 Oct 2021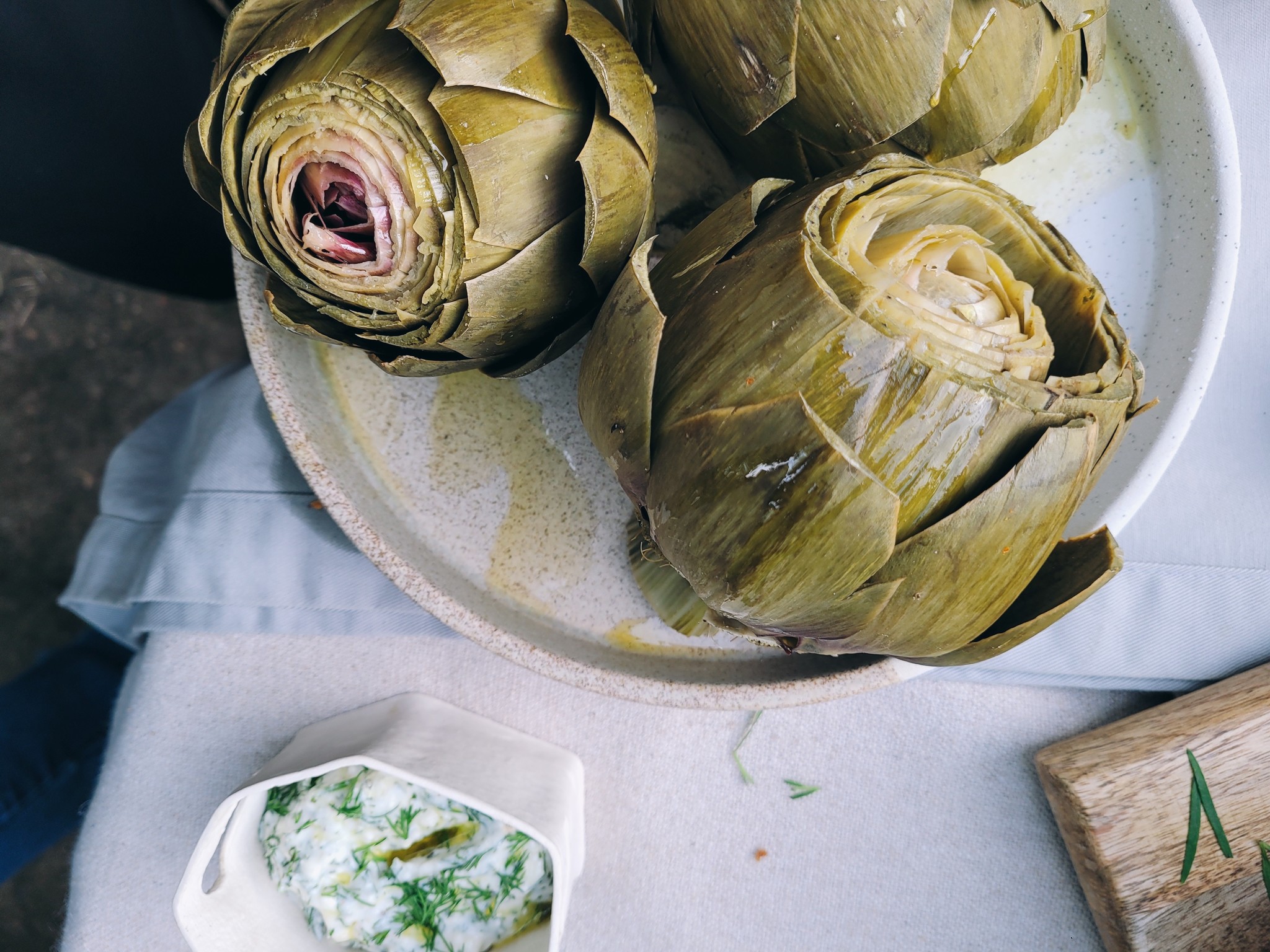 "I can't really speak French, but I cook in French."
- Melissa Clark
When we fell madly in love with these vintage Grès de Bonny ceramics, we knew an excuse to put them to use was at hand- enter a rich late summer gathering full of french food and garden company.
Take a peek at delicious below, and we're sharing a few of the recipes we whipped up from one of our go-to authors Melissa Clark and her book, Dinner in French. Those pages are spotted and warped a bit with much use, because ... girl's got it.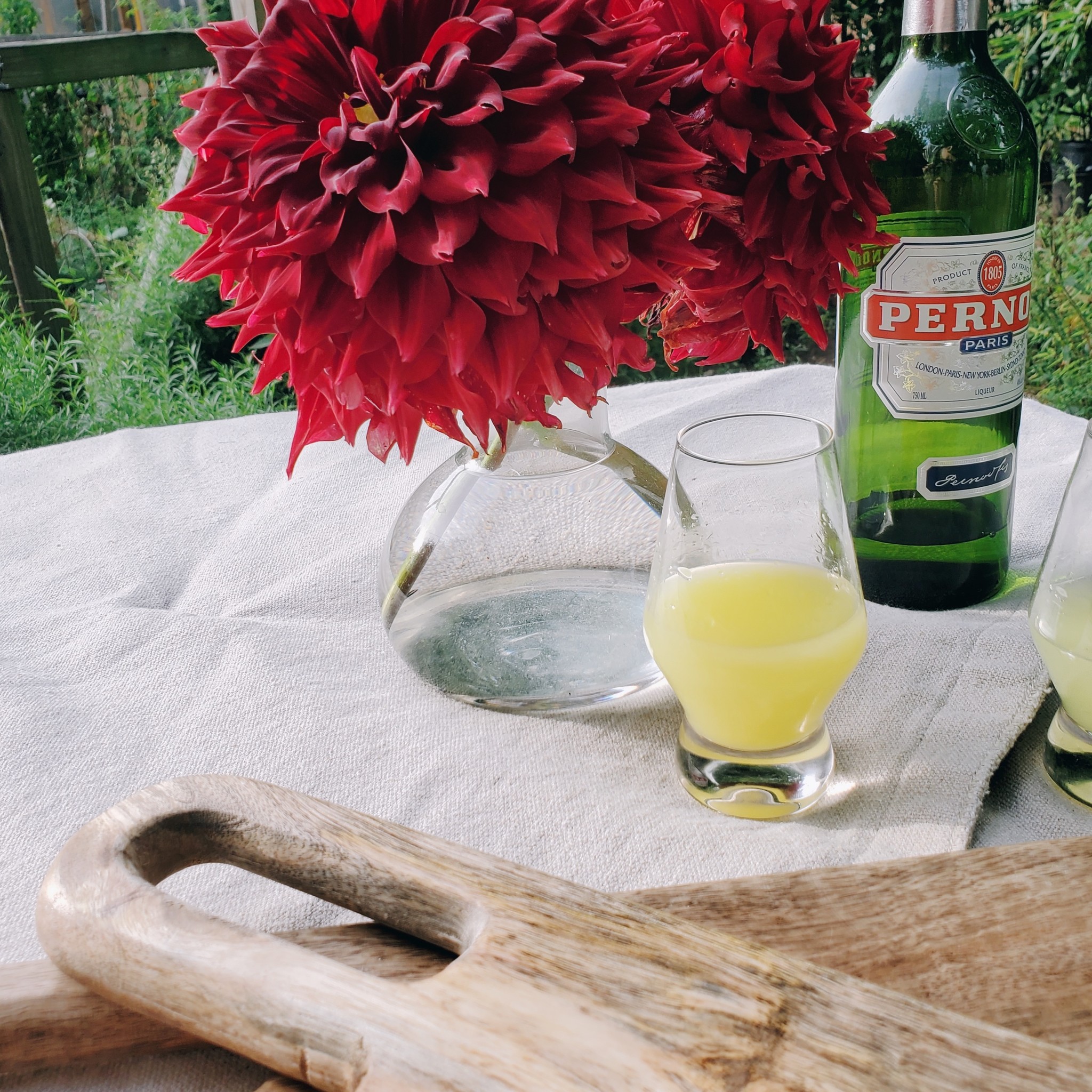 L'apéro
We started off the evening pouring a glass of Pernod, a go-to spirit in France for the past 200 years. Its natural, herb-derived flavor is known to stimulate your appetite... and boy oh boy, did we have a lot of delicious food to soon be had!!  Tip: if the flavor is too strong for you, add some water, it's what the French do...
Les hors d'oeuvres
For our appetizers, to enjoy along with our drinks, we served:
Artichokes with Feta and Dill Dressing, Formage Fort with Jalapeno- both recipes from Melissa Clark's Dinner in French. In addition to these (ok, we told you we had a big meal coming!) we enjoyed escargot from a local favorite, Kate's Fish, a fresh baguette from On the Rise, and Oil Cured Olives from Holyland Imports. 
Let's talk for a second about that Fromage Fort (strong cheese ... love that). It's a practical way to use up some of the last bits of different cheeses you have -- just whip it together with some white wine, garlic, and peppers (we used Hungarian Hot Wax because we got ourselves a bumper crop this year) and voilà. Your bits of brie, bleu, cheddar, hey slices of American cheese I see you, you can play too -- all come together to make an entirely new and enchanting spread.

But for the recipe, we wanted to share the Artichokes with Feta and Dill Dressing. Such a good combination of flavors and textures, this one was a real winner...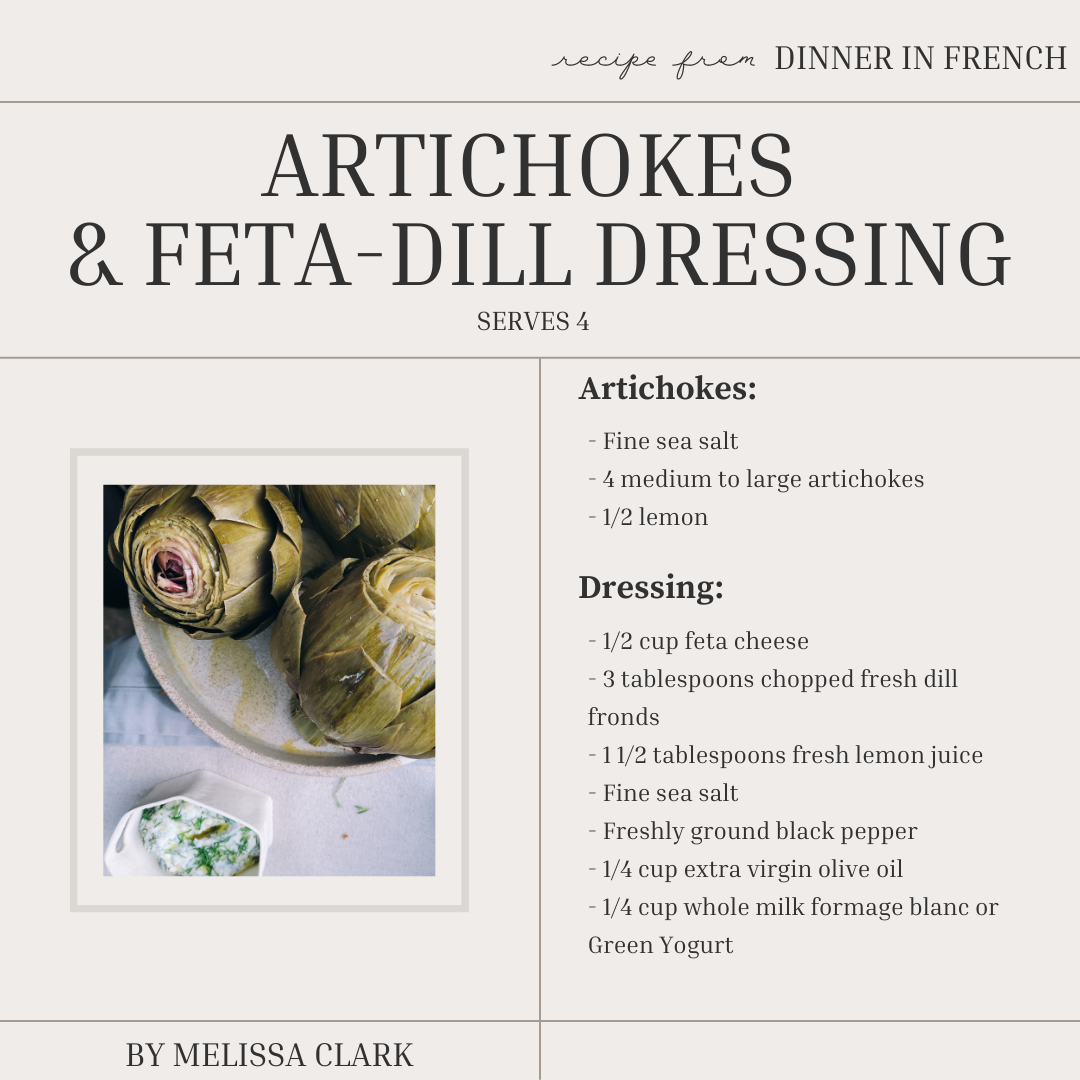 Recipe Instructions: 
1. Prepare the artichokes: Fill a large pot with 1" of water, add a pinch of salt, and place a steamer basket inside. 
2. Remove any browned outer leaves from the artichokes, then cut off the top quarter of each artichoke. Melissa recommends using kitchen shears to trim away any pointy ends on the remaining outer leaves. And also use a veggie peeler to remove the tough outer layers of the stems; then immediately rub all cut edges with the lemon half to prevent browning. 
3. Place the artichokes stem side up in the steamer basket, along with any remaining lemon juice. Cover and steam until tender, about 30-50 minutes, adding more water as needed as the pot dries out. If a knife slides into the base of the artichoke easily - they're done!
4. To make the dressing: whisk together the feta, dill, lemon juice, and a large pinch of salt, add black pepper to taste. Then whisk in the oil and Fromage blanc. Adjust seasoning to taste. 
Enjoy!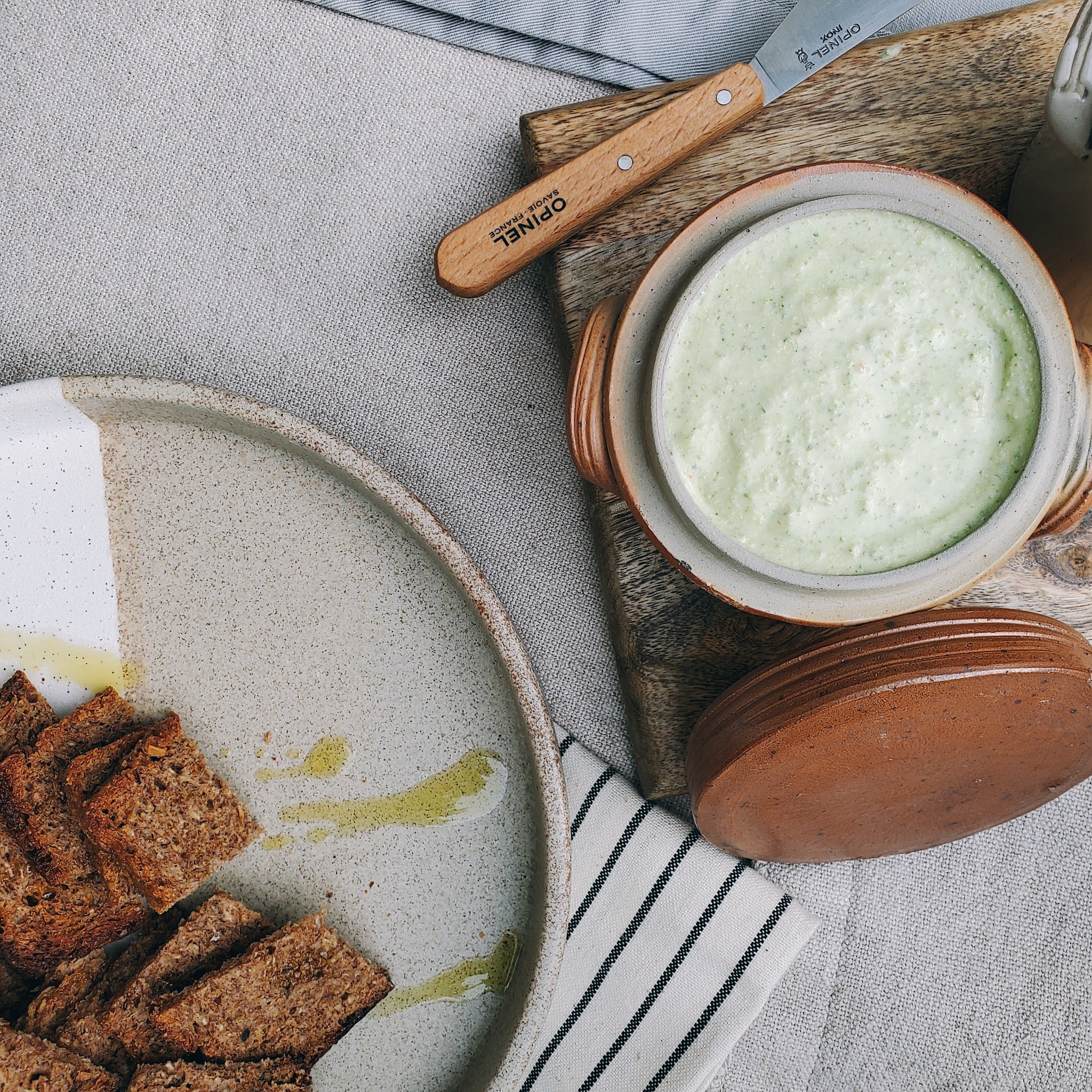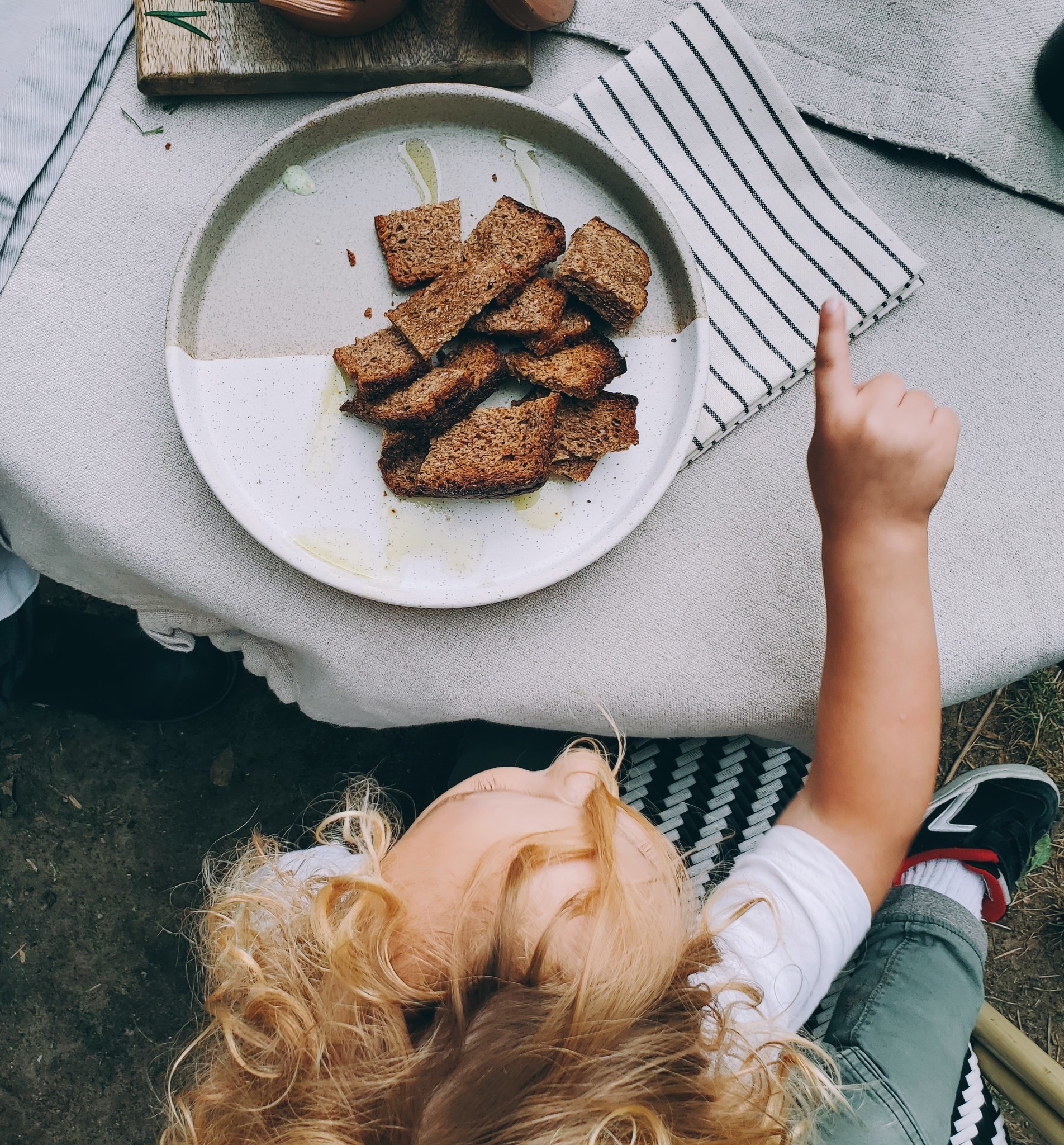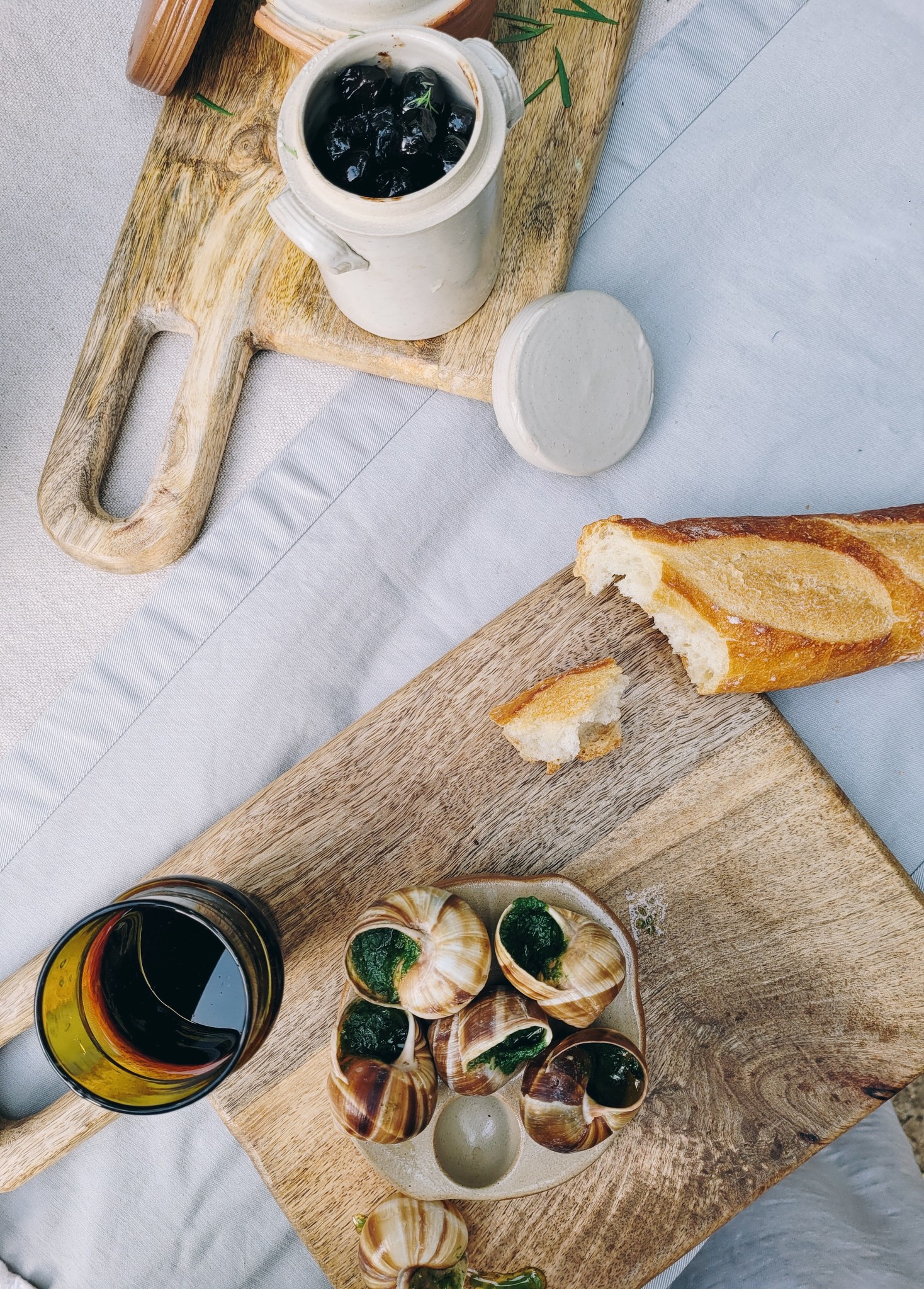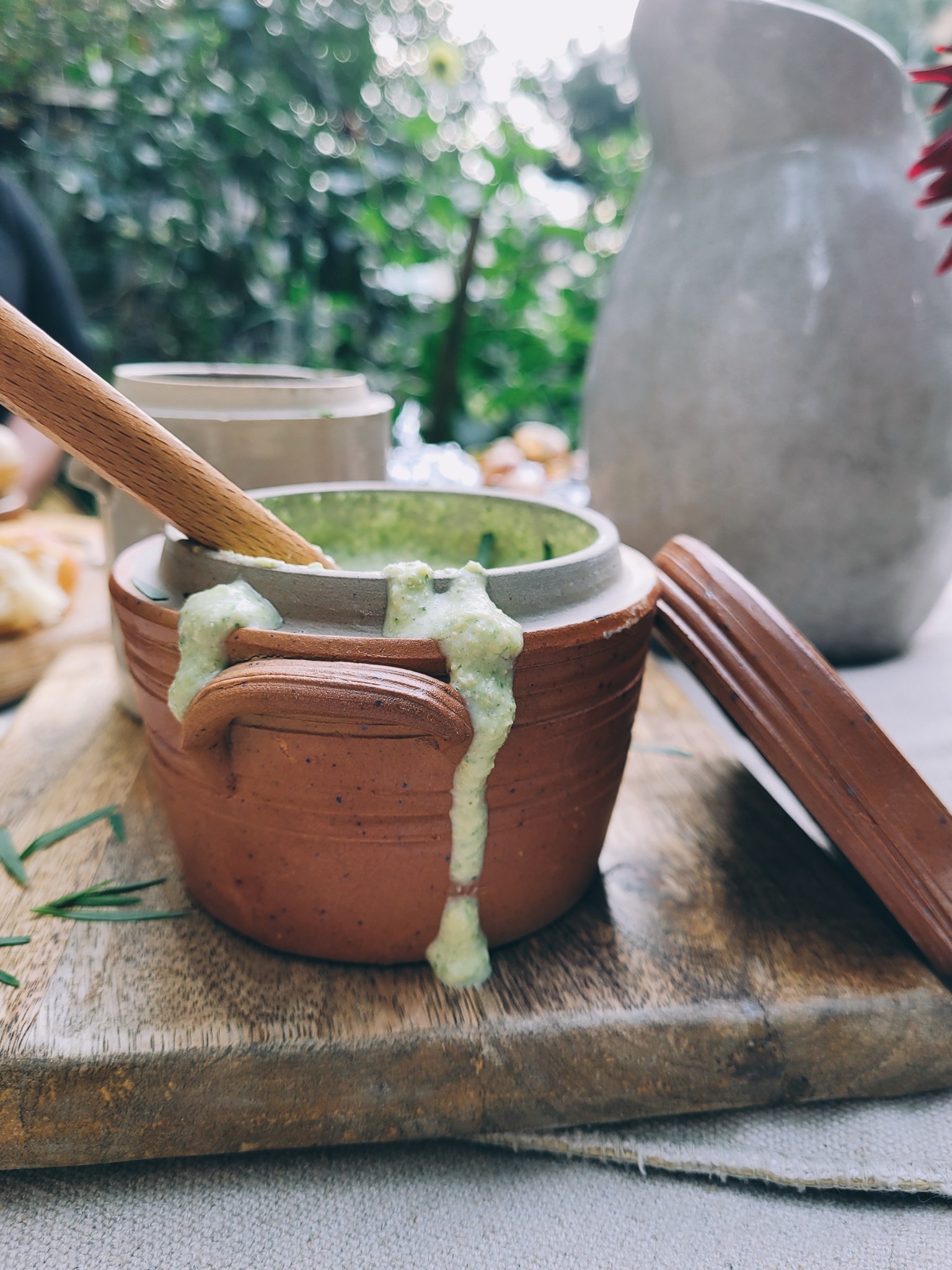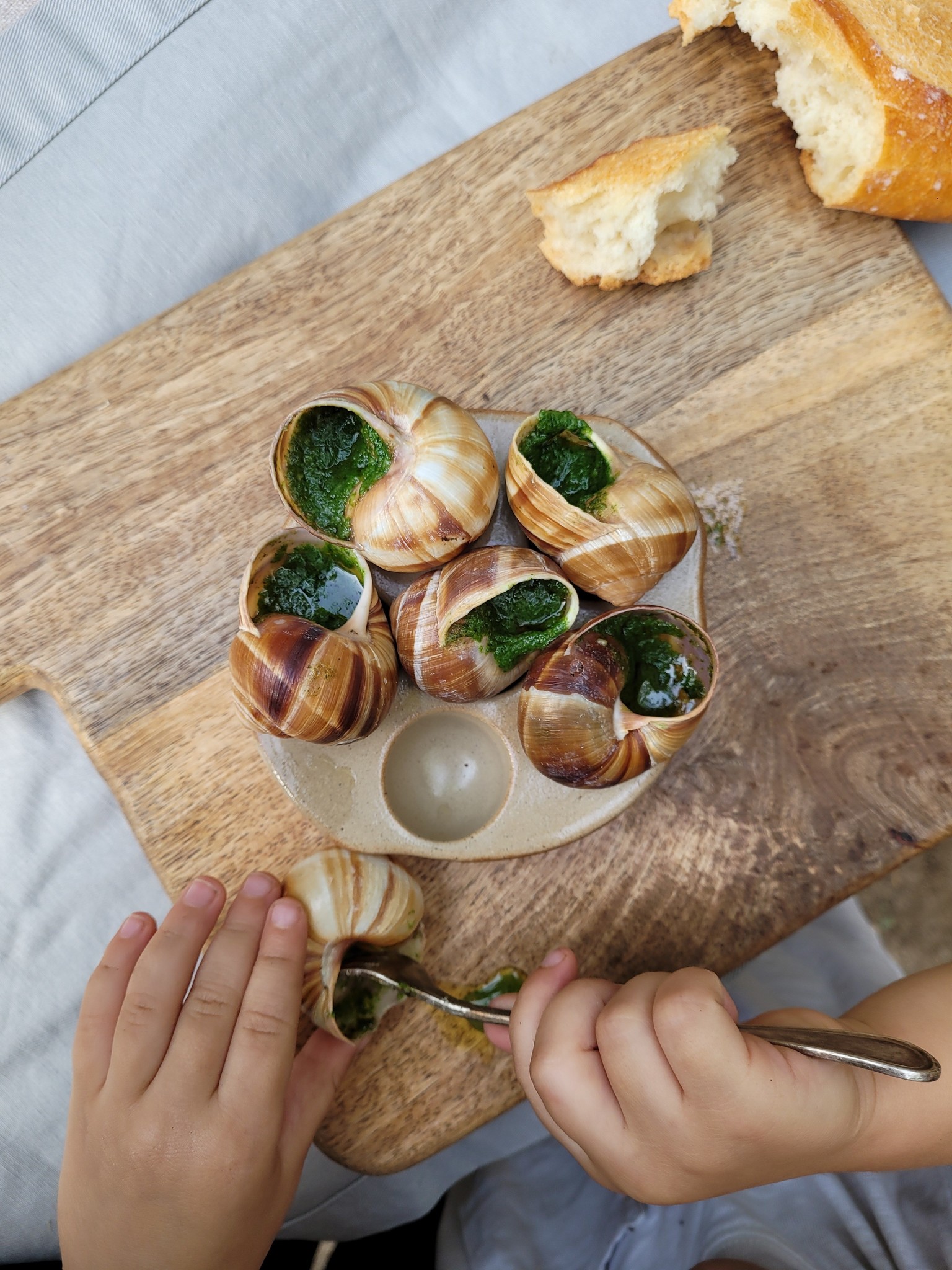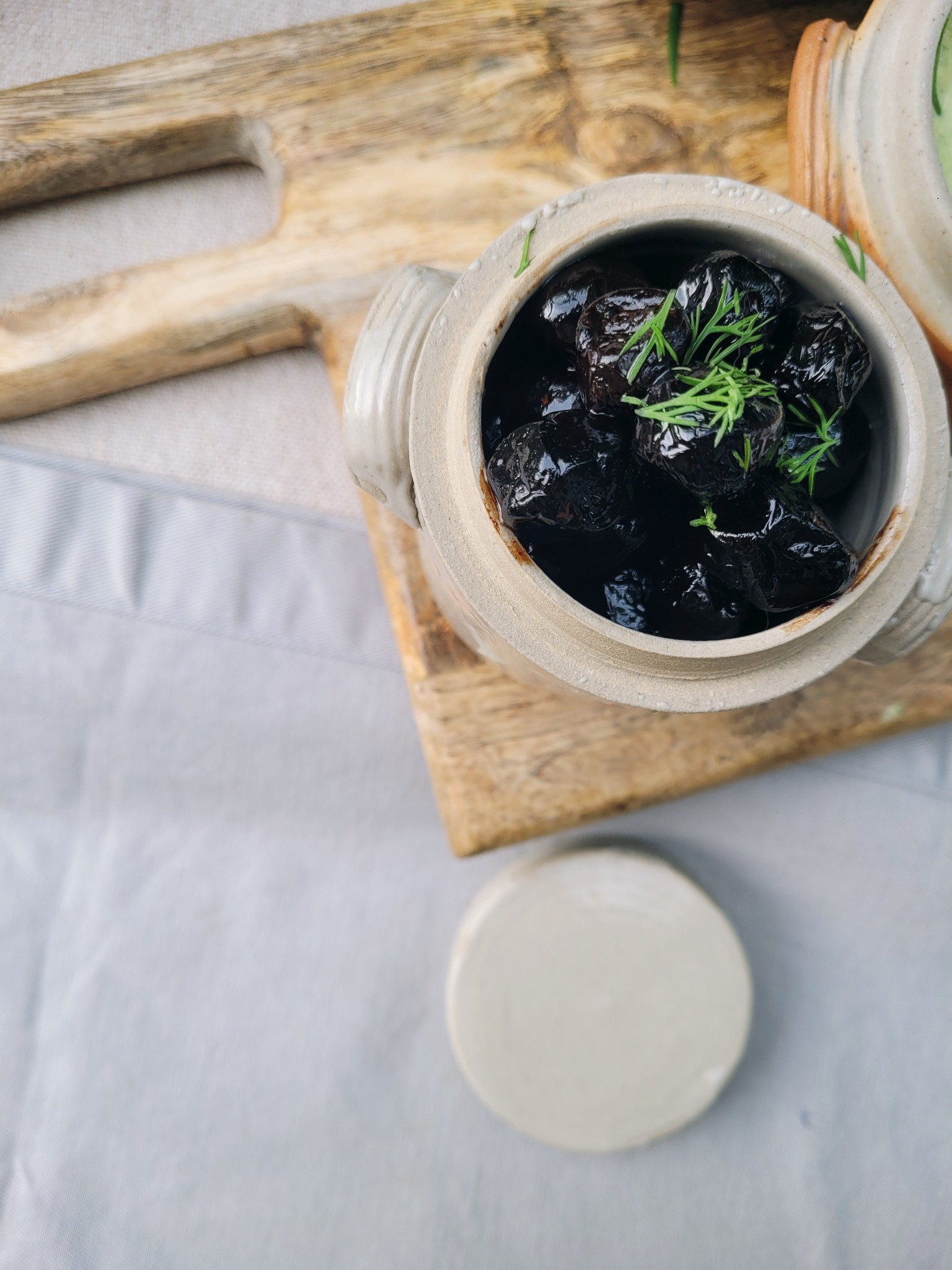 Le plat principal (Main Course)
Cleanse that palette with another drink, because now we're onto the next course - the main course! For this part of the meal we cooked and served three items, all again from Melissa Clark's Dinner in French. They were: Tarte Flambée (Flammekuche) with Swiss Card, French Onion Soup, and the Radicchio Salad. 
Flammekuche was one of those things that Andrew discovered as a university student in France -- a pizza that's not a pizza, full of those lovely flavors of Alsace. He would order one, put on a few drops of hot oil and there was many a dinner.
Here's the recipe for Melissa Clark's version that you'll find in Dinner in French, along with the other dishes from our meal below!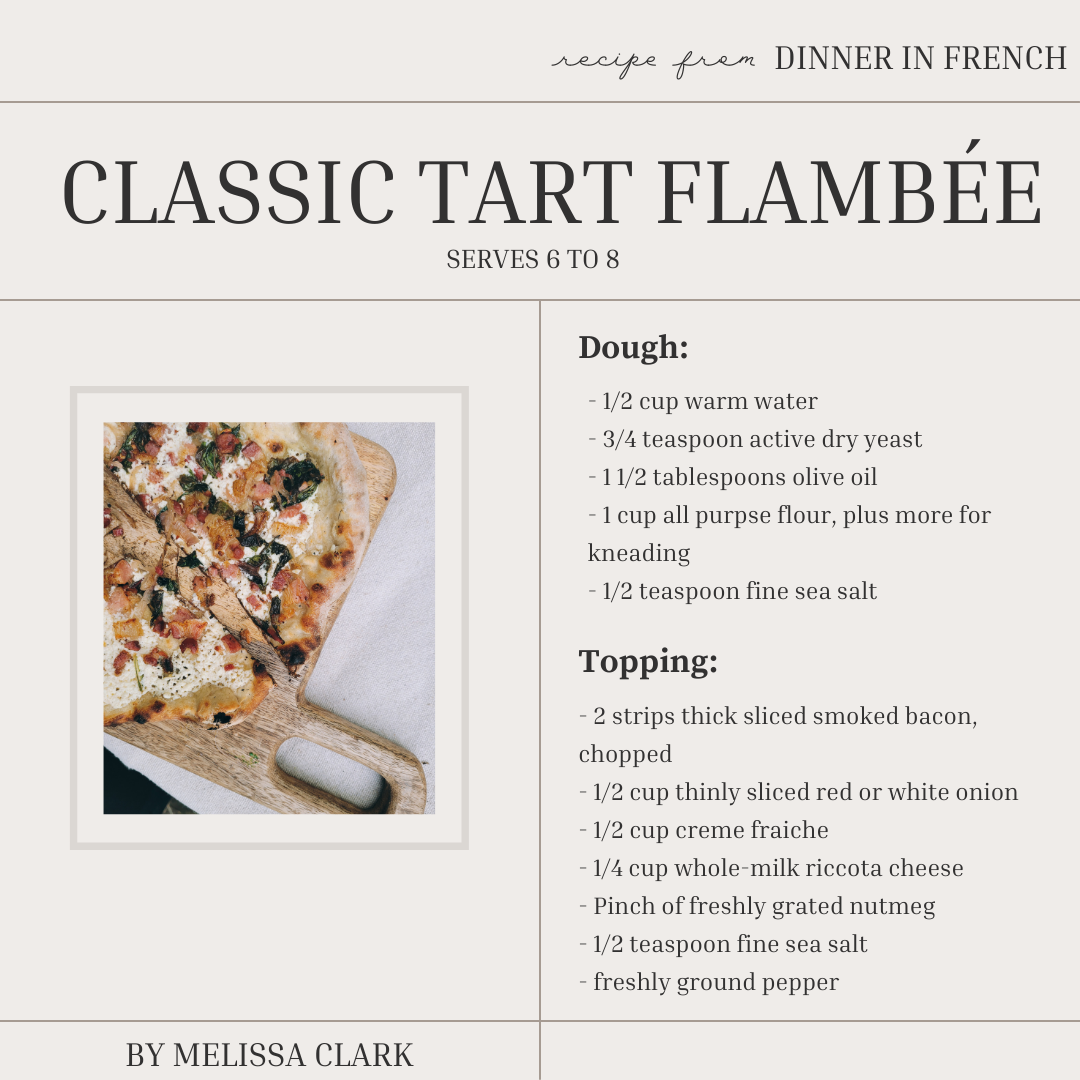 Recipe Instructions: 
1. Pre-heat oven to 475°f with pizza stone inside or a large cookie sheet placed upside down for flat surface. 
2. Make the dough: Pour the warm water into a medium bowl and sprinkle dry yeast over it. Let stand until foamy, about 5 minutes, then whisk in the oil.
3. Oil a large bowl and set it aside. In another large bowl, whisk together the flour, salt, then add the yeast mixture. Knead the dough on a floured surface until it is uniform and elastic (3-5 minutes!). Transfer the dough to the oiled bowl and cover it with a damp towel and let rest for an hour.
4. Roll the dough on a floured surface to form a round pizza shape and transfer it to a lined cookie sheet. Cover it with a damp towel for 30 minutes.
5. Prepare the toppings: Heat a medium skillet on medium heat and add the bacon, cook about 4 minutes. Stir in the onion and cook until wilted. Remove the skillet from the heat.
6. In a medium bowl, whisk together the creme fraiche, ricotta, nutmeg, salt, and white pepper.
7. Spread the creme fraiche mixture on the pizza dough evenly, leaving a small border around the edges. Then sprinkle the bacon mixture over it and transfer the dough, still on the parchment, to the pizza stone or other cookie sheet in the oven. Bake until golden and crispy, about 9 to 18 minutes. 
Cut a slice and enjoy!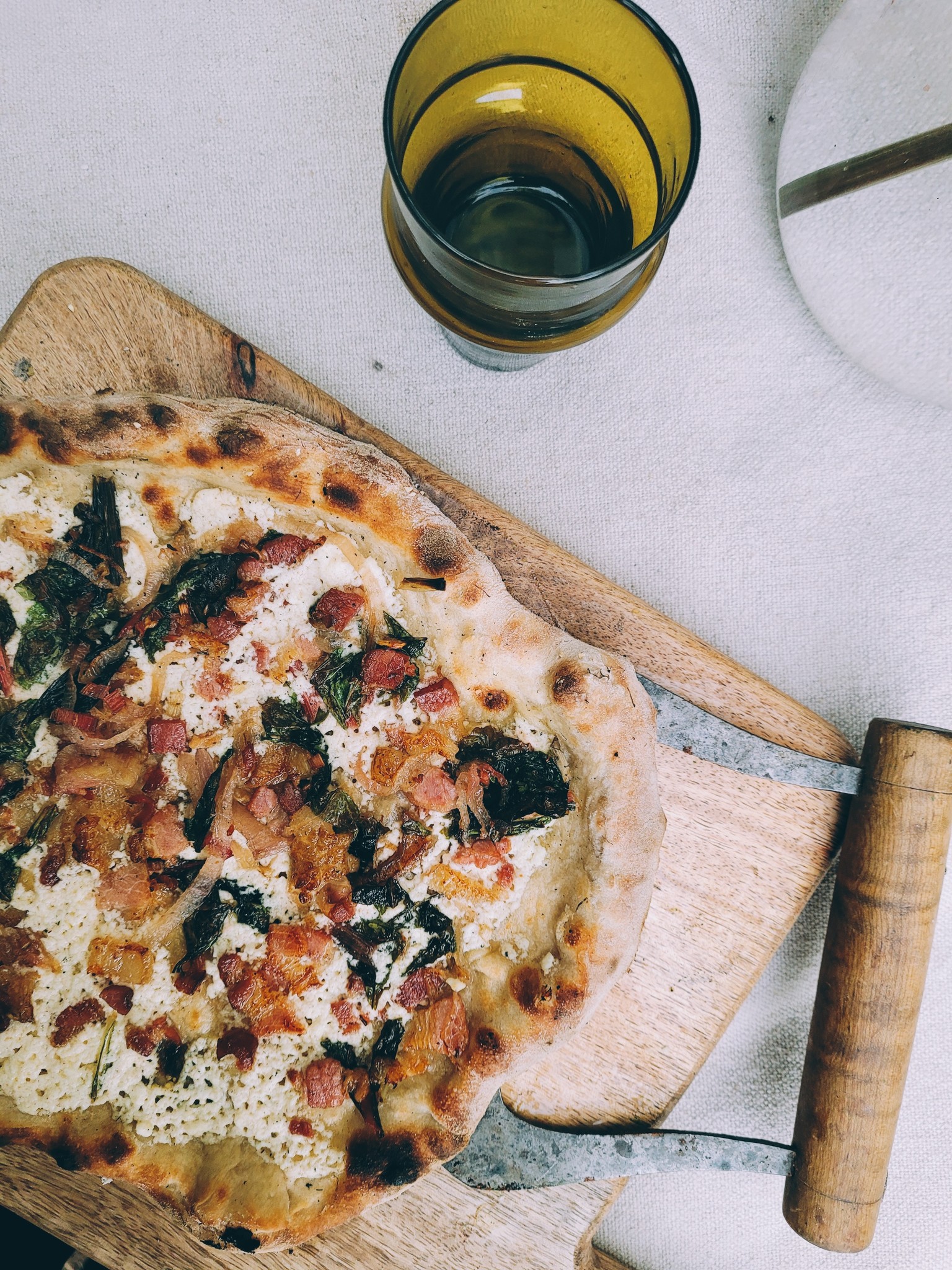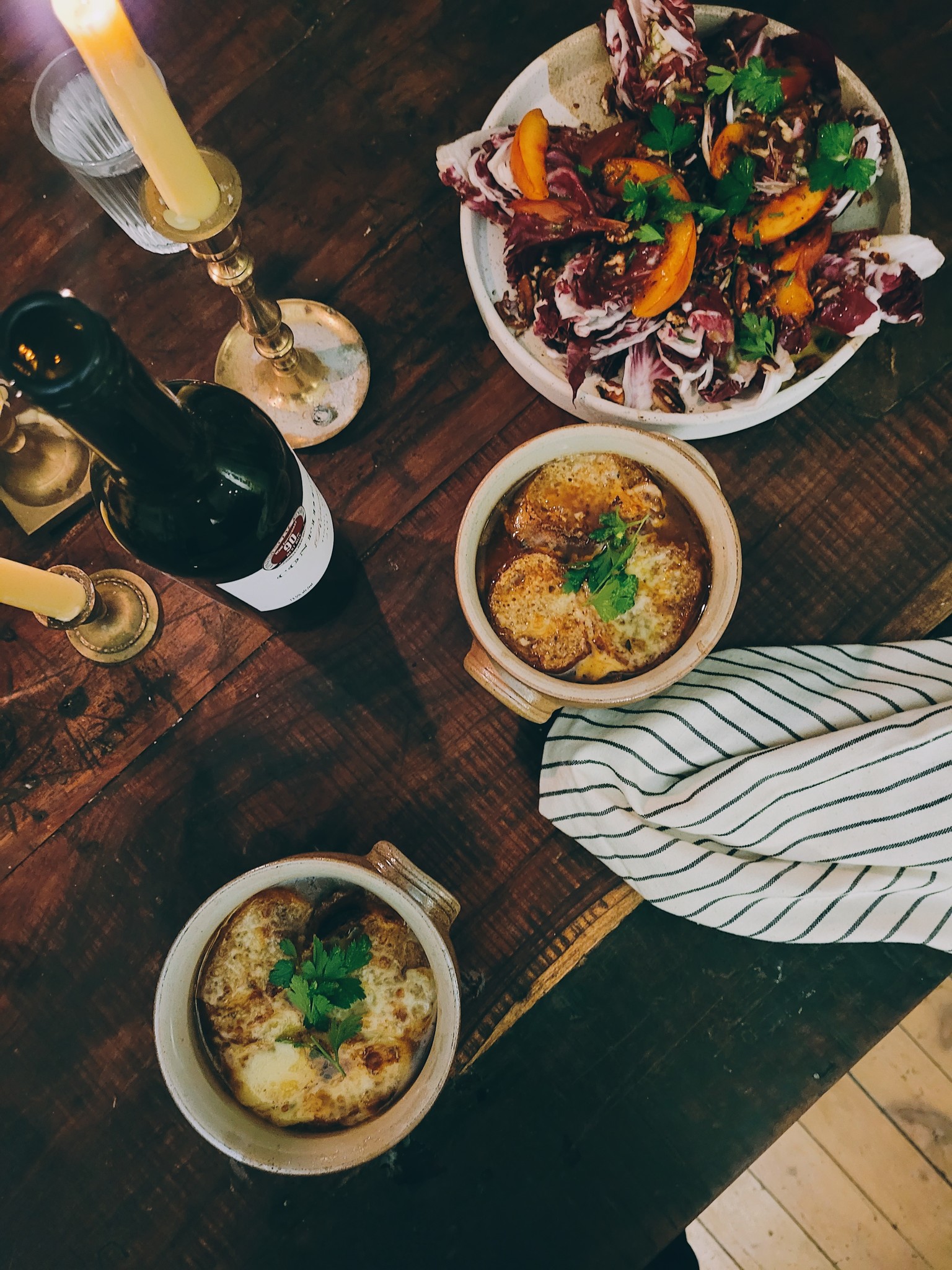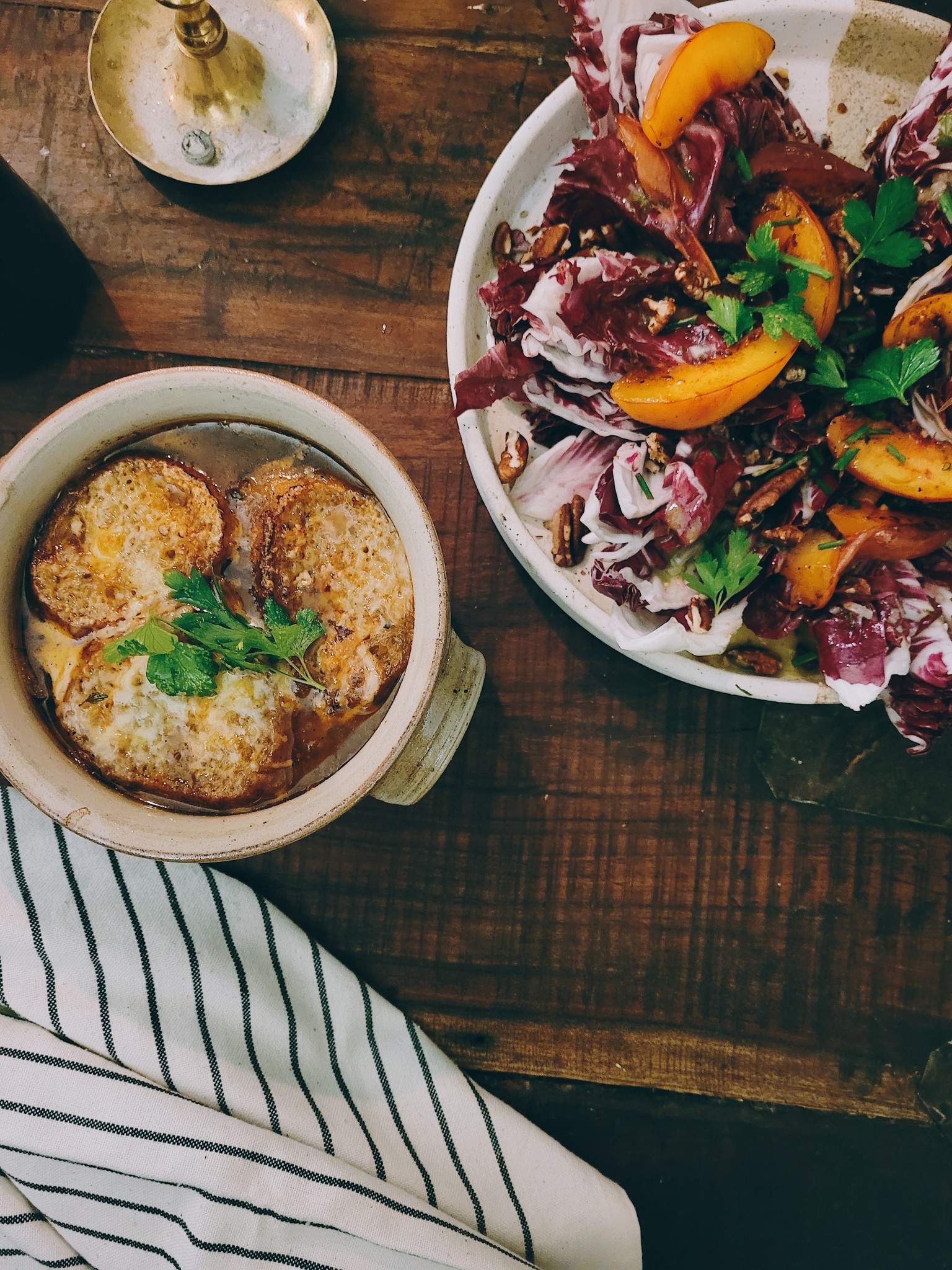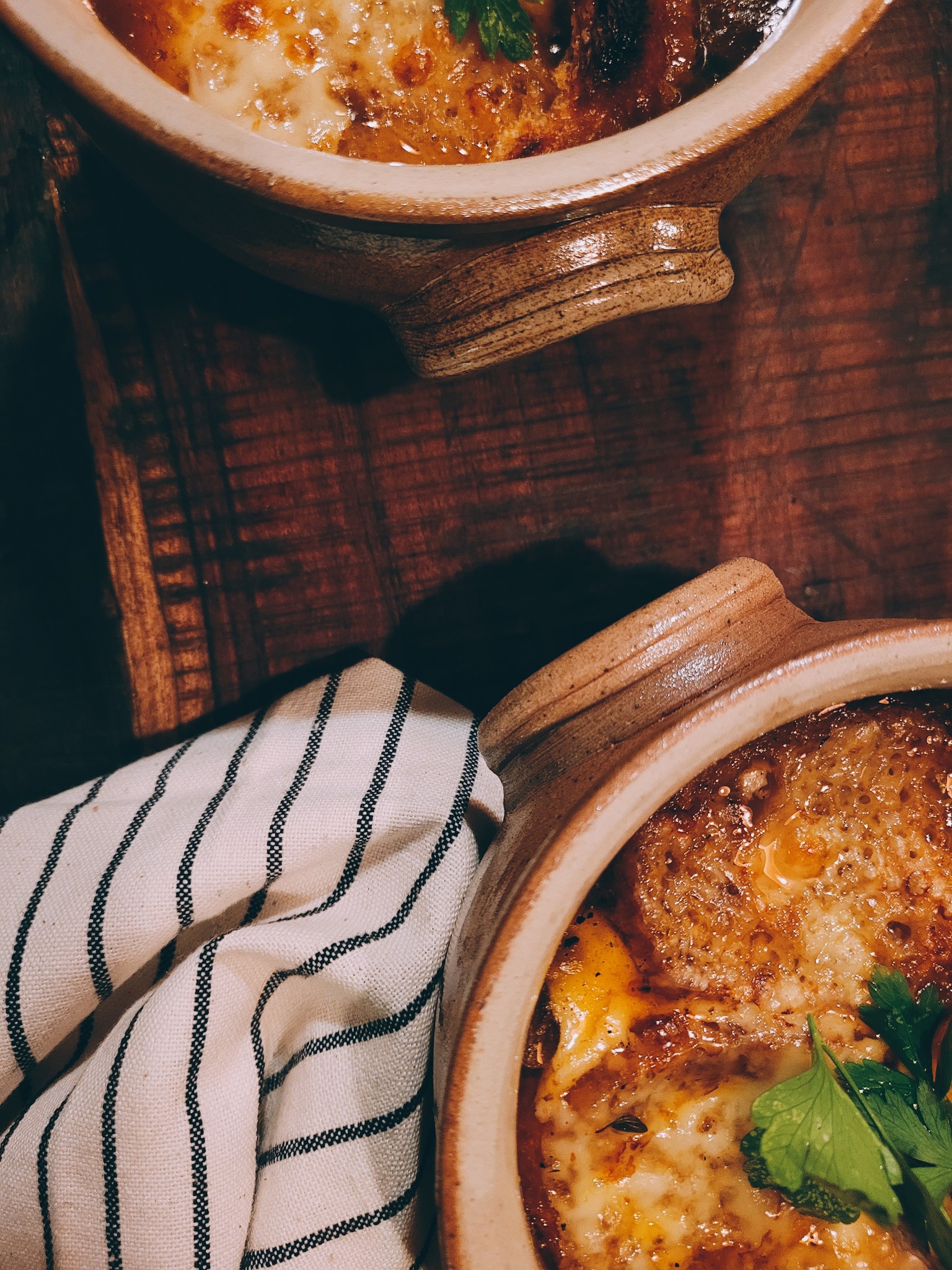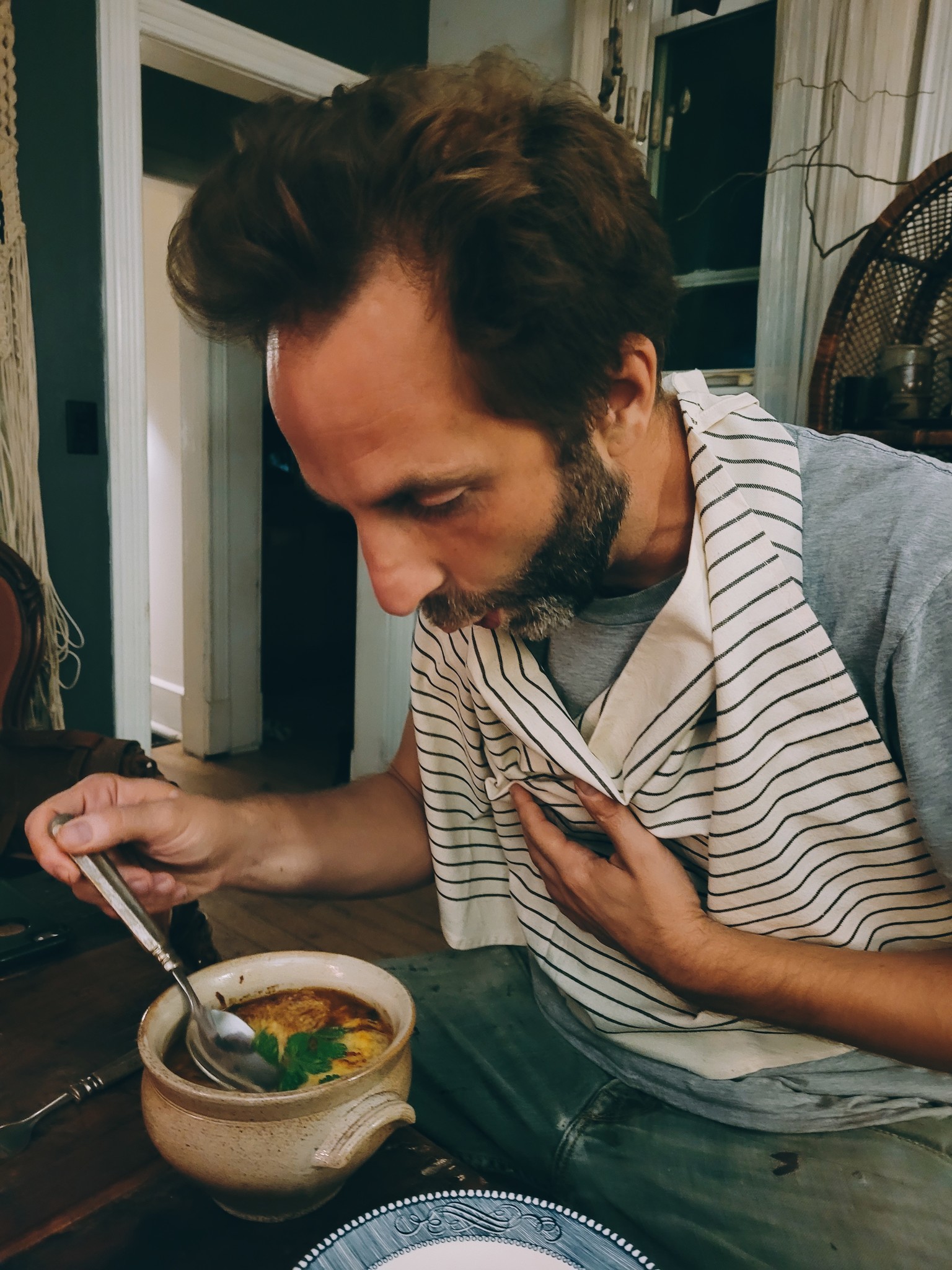 Le dessert
A proper meal is always capped off with a decadent dessert, and we did just that with Chocolate Mousse from Anthony Bourdain's Les Halles. This one was prepped by our dear friend, Felicia, and served in our Bonny Vintage Butter Pot. You'll see mousse au chocolat served in these ceramic bowls all over France -- it could be a trick of the mind, but it somehow just tastes a bit more authentic when it's in the right container.
Here's a close adaptation of the recipe here that you can try for yourself at home!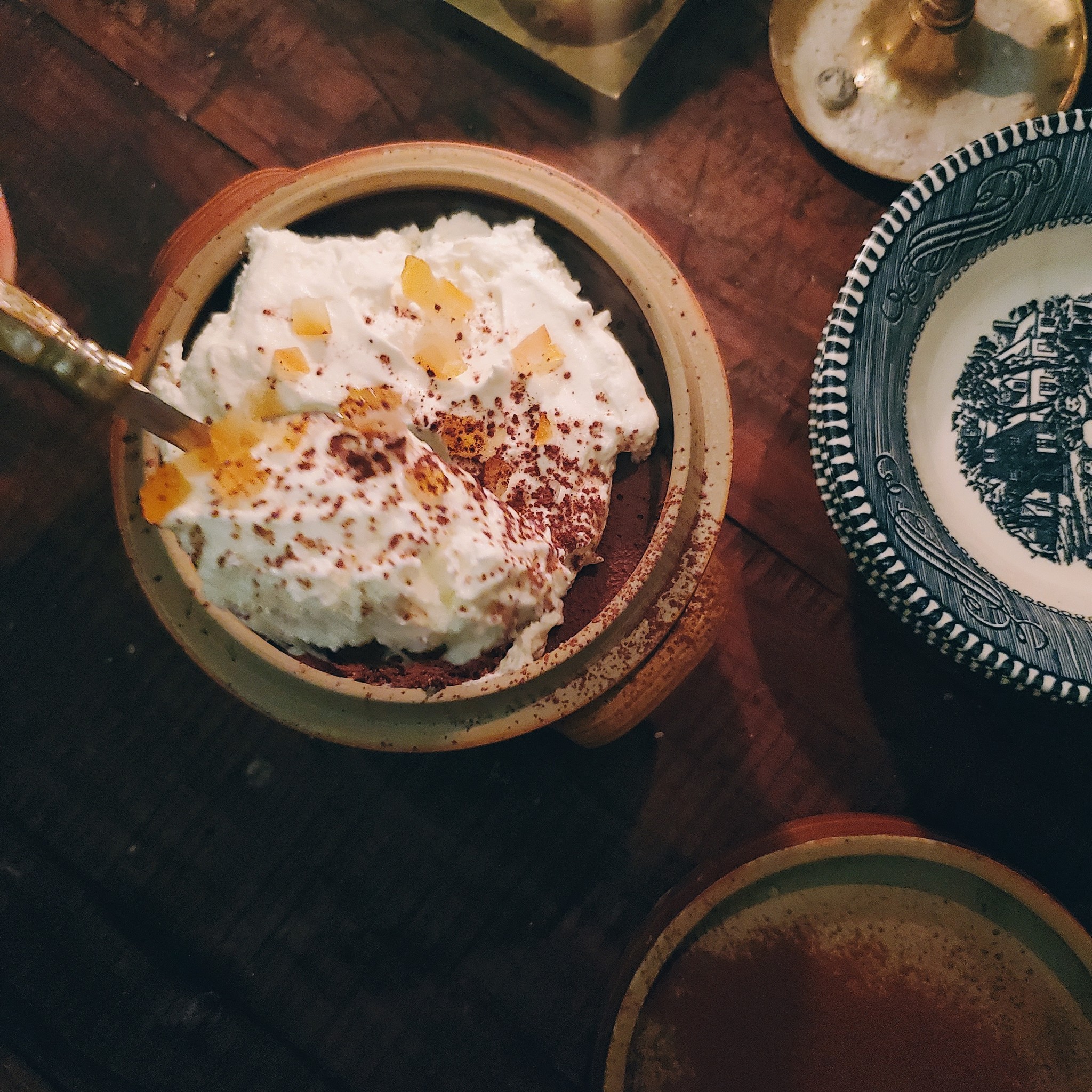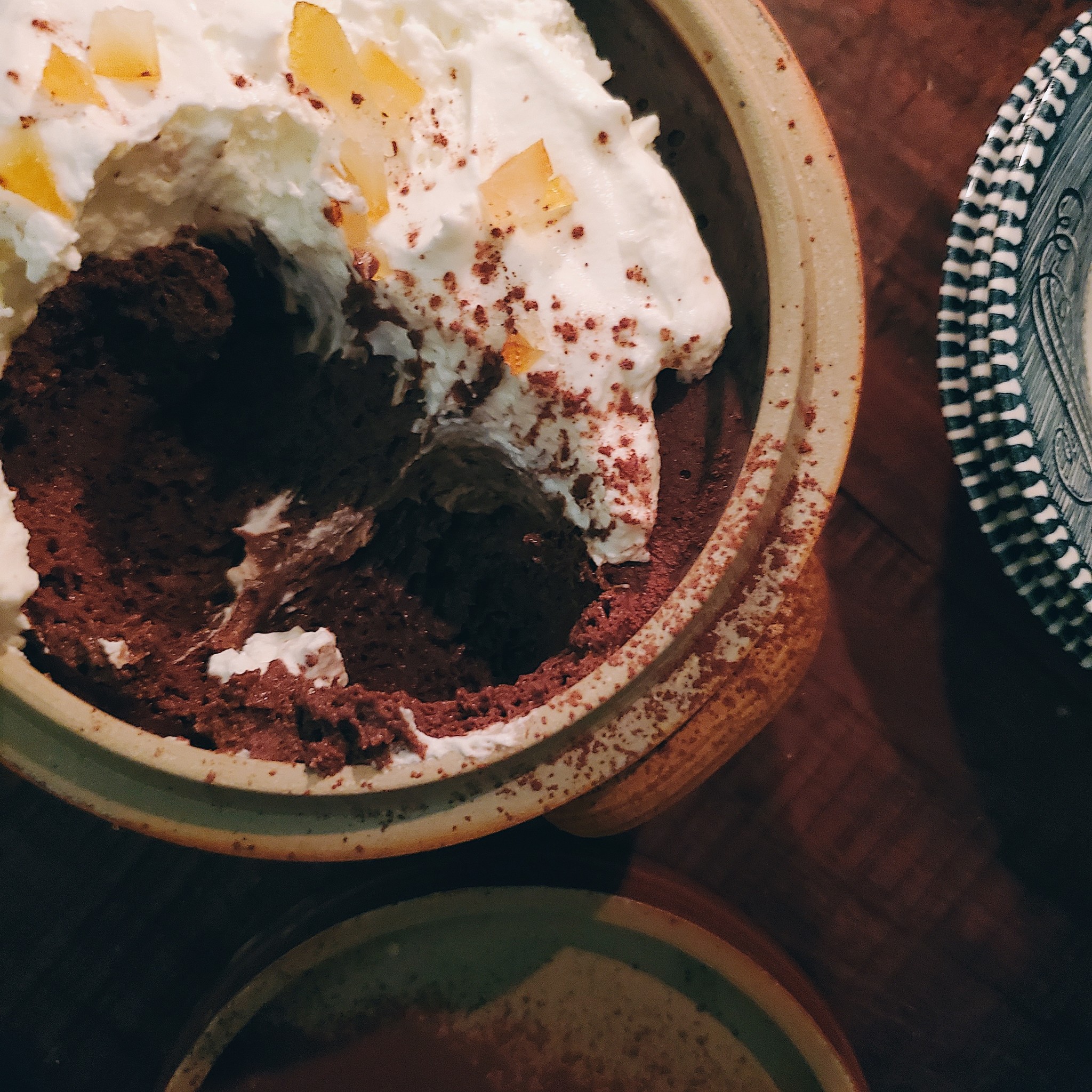 Inspired to cook any of these French dinner recipes at home yourself? Let us know how it goes! Or if you have another French recipe you think we need to try next... do tell! xo 
Leave a comment